---
Merchant Accounts Express
from
Merchant Express LLC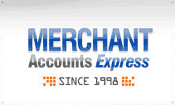 Product Description
Merchant Accounts Express has been in the payment processing industry for 10 years now. Given their wide array of credit card processing options, you're sure to find one that best suits your business.
Merchant Accounts Express has been a provider of merchant services since 1998. They offer a variety of options, including Point of Sale Terminals, Phone Processing, QuickBooks Processing, Processing Software, and Wireless Processing.
A major advantage of signing up with Merchant Accounts Express is that they have one of the highest application approval rates in the industry. Additionally, setup is very straightforward. You can begin accepting credit card payments within just a day of signing up for your merchant account.
Another great thing about Merchant Accounts Express is that there are no hidden fees, unlike with other companies. Also, the fees are fixed and will thus not increase over time. The fees established upon sign up are the same fees you will be paying throughout the duration of your contract.
Visit the Official Website of Mercahnt Accounts Express

Product Research
The Price:
Startup Cost: $39.00
Monthly Cost: $14.95 gateway fee, $9.95 statement fee, $25.00 monthly minimum
Other Occasional Fees: $25.00 charge back fee, $0.05 address verification fee
Features:
| | |
| --- | --- |
| | Low costs |
| | Personal service |
| | High application approval rate |
| | Sign-up is fast and simple |
| | Free software |
Feedback
"Impressive service. I'd recommend merchant accounts express to everyone, especially given their low low fees."
Actual user feedback from webmasterworld.com

"Merchant Accounts Express has been able to establish itself as one of the best credit card processing services. Like other top service providers, they also have 98% approval rating of all their merchant account applicants which is very notable."


Actual user feedback from starreviews.com

Have you used this product?
If so please leave a comment below.
Accuracy Disclosure: www.merchantservicereviews.com has not directly tested this product, but has conducted research into the alleged results of other users who claim to have used the product. The accuracy of both the publisher's research and alleged user results cannot be guaranteed.
NA
Comments
Honest Opinions, Reviews, Complaints Comparisons, Scams, Information and Advice