---
Electronic Clearing House
from
Intuit Payment Solutions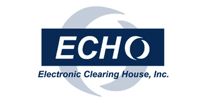 Product Description
Electronic Clearing House (ECHO, Inc.) specializes in being a high quality processing provider for retailers, banks, and software providers all over the nation. Since 1986, ECHO Inc. has been providing clients with a wide variety of services.
Since 1986, Electronic Clearing House has been providing its clients with services which include not only credit card processing, but also check verification, conversion, representation and collection, among others.
To date, ECHO Inc. has more than 110,000 clients, a testament to the quality of options it has provided to the businesses that have been loyal to us all these years. We speculate that with what we provide, this number will only increase.
Electronic Clearing House has also been distributing Internet merchant accounts since 1997, showing our company's interest in tapping into only state-of-the-art media in order to provide you with faster and more secure accounts than ever.
Visit the Official Website of Electronic Clearing House
Product Research
The Price:
No start-up fee
$19.95 monthly fee
1.75% + $0.25 processing rate
Features:
| | |
| --- | --- |
| | Secure transactions via SSL technology |
| | Virtual terminal access |
| | 24/7 customer service |
| | Free processing scripts in many popular hosting languages |
| | No hidden fees |
Feedback
"I would highly recommend ECHOnline real time processing and their Merchant America Shopping cart for any Merchant doing business on the Internet."

Actual user feedback from merchantseek.com

"ECHO-Inc prices are the cheapest I've seen... plus the advantage of no charge for the first five chargebacks …"


Actual user feedback from webhostingtalk.com

Have you used this product?
If so please leave a comment below.
Accuracy Disclosure: www.merchantservicereviews.com has not directly tested this product, but has conducted research into the alleged results of other users who claim to have used the product. The accuracy of both the publisher's research and alleged user results cannot be guaranteed.
NA
Honest Opinions, Reviews, Complaints Comparisons, Scams, Information and Advice